Tracking and Report
Click on the 'People's icon' at the top right corner of your screen. Under the Teams and Students column, you will be able to see all your students who have successfully connected to your Deck.Toys Classroom.
Along the lesson in your Teacher's view, you will see the students' avatars on the Activities that they are currently working on. With this, it allows you to gauge how far they are along the path. On each activity, a green indicator shows the percentage of students that have completed the particular Activity.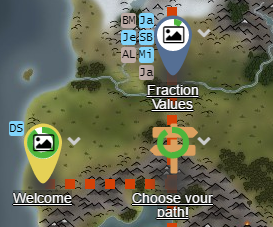 At the end of the lesson, generate the report for your Classroom by launching the Report app.
If you wish to hide your student's avatar from the whole classroom, you may do so by clicking on the 'Person' icon. Switch the student's identity to be hidden. This feature will allow your students who are not confident in answering the confidence to submit their answers anonymously. To retrieve the classroom report which contains the student's avatar, you will have to switch back the student's identity to be shown.
Read more about the Report app here.